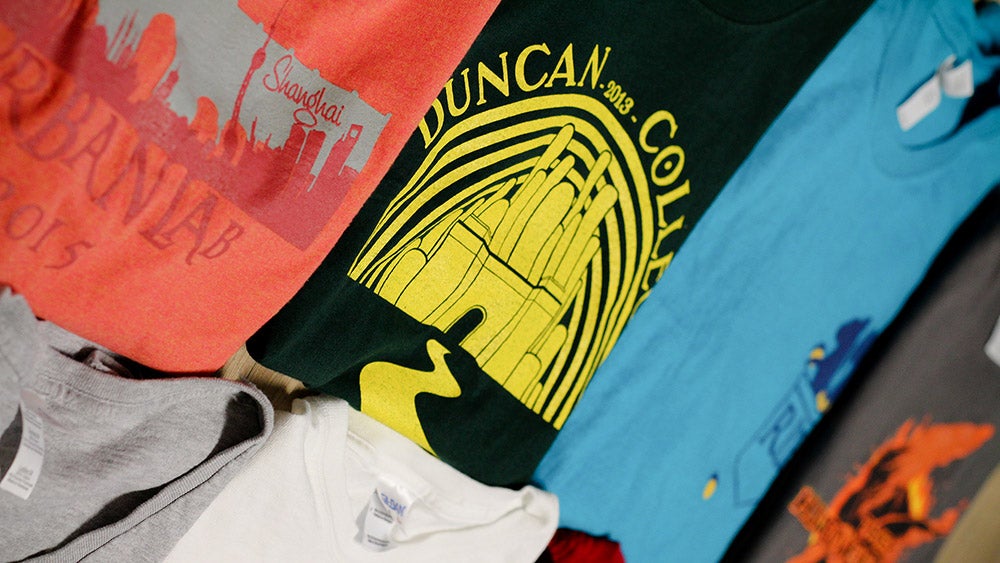 It's 2015 and as the world continues its spin cycle, we feel that time is becoming more and more valuable. It's been said that college students graduating today will need multiple jobs to keep up with their parents. More than a trend, it seems like today's workplace is continually demanding more hours than previous years.
University life is no different. Parents who graduated college 20 years ago are realizing that the college experience of today is exponentially more demanding than their own. Ask a parent how much free time they had in college. Now, ask a current student. Times have changed. Time is no longer free.
Attending a university means way more than a degree today. Colleges are taking the opportunity to fill student's lives with more classes, group studies, lecture series, and involvement in campus organizations. They pack it in, and the student experience is enriched in more ways than just academics.
But everyone still needs clean laundry. It's a necessity; and DIY laundry is a nuisance chore (plus a major consumer of water). It's manual work that requires too much of an individual's time to complete successfully. Students with 32 weeks of school will literally spend 96 hours a year in laundry rooms. That's four complete 24-hour days doing laundry. four days a year – washing, waiting for a dryer, and folding clothes.
We want students to be involved, active, and highly participatory while they are in school. We prefer our leaders of tomorrow spend their time learning humanities, science, and arts, not wasting time in a basement laundry room protecting their underwear.
We'll take care of your underwear and everything else. Doing your own laundry doesn't add value to life's most formative years; it's just a chore. We remove the chore. It's our hope that students will invest the saved time somewhere contributive.
Magic happens in college. A student's future is determined by the sum of their university experience. We remove the negative experience of DIY laundry.
Bundled Service 101
Sliced Bread has a rival; if given the choice to slice your own bread or do your own laundry – we'd all pick up the serrated knife. Bundled Laundry Service means – We do your laundry.
While you get valuable hours to put back in campus life or other causes, we handle your dreaded chore of laundry. From start to finish – we do it all – the sorting, the washing, the drying, the retail-style folding, the packaging and the delivery. Anything you think is dirty enough to put in a laundry machine, bring it to us – we'll give it back clean and folded.
And we do it with less water, energy, and chemicals than you can ever do at home or in your own machines. With high-efficient, NPE free soaps you can be sure that your clothes are being cleaned with the earth-friendliest materials that won't irritate your skin. Our washer and dryer systems use less water and energy than home or dorm versions allowing you to conserve valuable campus resources.
It's the greatest thing.
THREE GROUP SORTING
Any proper laundry care has to be aware that there are three groups of laundry, not just two. We separate your clothes into three groups – darks, mediums and whites. The extra sorting group insures your colors stay bright and don't bleed onto other garments.
EARTH FRIENDLY WASHING
Your sorted clothes are washed with cool water and a custom formula, high-efficiency soap free of harmful NPE's. You can't get your clothes as clean as we can, celebrate that!
CAREFUL DRYING & WEIGHING
We make sure your clothes are completely dry before weighing and packaging. Weighing them after the cleaning and drying process means you get your clothes at their absolute lightest weight. Dry clothes also mean you ensure fresh smelling clothes upon delivery.
RETAIL STYLE FOLDING
If you are like us, you like your living quarters clean and organized. Nothing creates the tidy environment like retail-style folding. Your clothes come back impeccably folded and hand-packaged in recyclable polywrap, ready to immediately be put away on shelves or drawers. You could actually display them.
WHAT GOES IN THIS BAG?
Bundled Service will wash anything you'd normally put in a machine. Think basic laundry – t-shirts, jeans, underwear, socks, sweatshirts, sheets and towels. If you have a shirt or an item you don't need ironed, you can use Bundled Service for those too.
HOW MUCH IS 20 POUNDS?
That's a great question. If you have any idea of what is average, you'd know you wear about 15-18 pounds of laundry in a week. If you throw in a towel and sheets, you land at an average of 20 pounds. But what is average? Because each of our clothes carries different weights, we thought it might help to see photos. Keep in mind, we weigh clothes when they are dry, at their lightest weight.
The 20 Pound Plan is the most popular. Occasionally we have customers who dry-clean the majority of their clothes so they will use the 10 Pound Plan for sheets and towels as a sort of linen service. Athletes or high volume customers may use the 30 Pound Plan. If a customer skips a week completely, they get twice their weekly amount the next time they use service. Important to note, the unused pounds from an order don't rollover to the next week. Anything OVER a plan's allotted poundage costs $1.50 per pound.
WHAT DOESN'T GO IN THIS BAG?
Things that you would want dry-cleaned or ironed/pressed will go into your black bag. Wool items, silk items, suits, most dresses, or your finer garments should not be put through Bundled Service.
TRACKING YOUR CLOTHES
When you start service, you'll get two barcoded laundry bags. The bags are always free. Once you bring them to the truck, we will ALWAYS know where the bags are in our process. And so will you. Download the app or login to your dashboard and follow your clothes from dirty to clean to weigh to back on campus.
QUICK TURN AROUND
To get your clothes from you and back to you, we have a brilliant staff and laundry truck that comes to campus three days a week. They are ready to take and scan your dirty clothes and help in anyway possible. Your clothes will be clean and back on campus within 48 hours.
THE ELEPHANT – what happens if an item is lost or damaged?
If an incident occurs where we are at fault, we quickly resolve the issue no matter what it takes, including replacement or reimbursement.
WASHING BY HAND
With all of the customers enrolled in our program we process an ENORMOUS volume of clothing. So, currently, we do not have the capacity to offer hand wash or hang dry service.
Dry Cleaning & Pressed Bag
We all have items of clothing we KNOW we can't put into a typical washing machine – so what do we do with these? How the heck do you DRY-clean something? It's a valid question and the answer may surprise you.
Dry Cleaning in short is cleaning without water. It does still use a liquid, but it's a cleaning solvent, not fresh water, to do the heavy lifting (weird tidbit – the Romans used urine – we DON'T do that). This process, as you can imagine, is more delicate with your fabrics.
At Owl Laundry – we give you a BLACK BAG for items you want to process via Dry Cleaning. You'll bring the Black Bag to the truck the same way you bring a bundled Service bag. Like your local cleaners, your account is billed per item.
WHAT ABOUT DRESS SHIRTS?
Dress shirts and other items that are typically dropped at a local cleaners are not technically cleaned with the same methods as dry-clean only garments. They are washed in more typical laundry machines and dryers, but instead of being folded, they are ironed, pressed, and returned on a hanger. Like dry-cleaning items, these items go in your black bag and are billed to your account per item.
WELCOME TO THE PROCESS
Here's the magic – we know which items go through which process (Dry Clean vs Laundered and Press). Here's our rule of thumb – if it's cotton, we launder and press. If it's not cotton and it's in your black bag, we process it via the dry-cleaning method.
WHAT ABOUT JEANS AND POLOS?
Great question. Where these items used to be laundered and enjoyed a natural color fading (see 1980's), people now want to preserve the color of these two garment types. While they are made of cotton, we actually will dry clean these items for you. It will cost a touch more than the laundry process, but your color and garment will last longer. If you prefer a machine wash on these, drop them in your Bundled Bag.
HAVE IT YOUR WAY
When it comes to your wardrobe and what you put out there – you may have some particular desires – here are four custom treatments we offer via our SPECIAL TREATMENT form.
Creased Pants – Our default method is a flat front, crease along the seam – if you want a crease down the front – middle, check the box and just put the form in your black bag.
Starch Change – We launder and press with light starch, if you want a crisper finish or no starch at all – let us know by completing the form and dropping it in your black bag.
Spot Treatment – If you have a spot you want to try to remove, check this box and put the form in your black bag. Tell us about the spot, we'll give it some extra love.
Replace a Button – If you lose a button on a garment, simply put the button in the bag along with this completed form. We'll sew it back on for you. If you don't have a button, we may be able to provide one, but chances are strong it will not be a perfect match.
Why Two Bags?
When you arrive on campus, you will receive two bacterial resistant, nylon bags: one large bag for Bundled Service and one smaller black bag for the Campus Cleaners. They are both barcoded to allow us to track your items throughout the cleaning cycle. You can follow along with the App (download it here).
You'll use these bags to let us know how you want your clothes washed.
Here is a quick rule of thumb to determine which items go in which bag.
The bundled bag
Imagine this bag as a washing machine. If you put it in here, we'll use a High Efficiency washing machine to make it anew. This is typically the bulk of the items you wear or sleep on.
TYPICAL ITEMS:
T-shirts
Bed sheets and pillowcases
Towels & washcloths
Socks & undergarments
Denim jeans (there will be natural color fading with machine wash)
Tank tops
Cotton sweatshirts or zip hoodies
Jeans and Polos
The Campus Cleaners Bag
This bag is for your finer garments – the items that require a soft touch when cleaning. These items are dry cleaned or laundered and will be pressed and returned on hangers. These items you typically wear more than once before cleaning. These items are billed to your account as you clean them.
TYPICAL ITEMS:
Dress shirts (laundered and pressed)
Wool or cashmere sweaters (dry cleaned)
Dress pants (dry cleaned)
Anything in luscious silk (dry cleaned)
Jackets & Sport Coats (dry cleaned)
Dresses (dry cleaned)
Jeans and Polos (dry cleaned)
How we care for your clothes:
The timeline
Taking care of your clothes is our utmost priority. We are diligent, we are detailed, we are precise and we are relentless. We've developed a 10-step process that takes care of your clothes better than any DIY solution could imagine.
Check the pockets for extras – if you leave something in a pocket, we'll return the items in a plastic bag, not in a dried wad left in your pockets (we've all been there).
We inspect and pretreat for stains – We'll give your garments a thorough review, making a point to pretreat any stains that might exist. We'll do our best to return your items to like-new condition.
We'll turn them right side out – It's the little things, but you'll enjoy your socks returned in pairs, ready to wear.
Sorting by color – One of the most important steps in ensuring the longevity and wearability of your clothes, we sort by white, mediums and dark, washing them all separately.
Eco Friendly Soaps – We wash with our earth-friendly laundry care system; its biodegradable, free of phosphates and NPEs.
Baby soft, bright whites – For your white garments, we use a touch of color-safe bleach and fabric softener to make your clothes velvety soft.
Dry Check – We check each load of clothes for complete drying, ensuring you avoid any off-scents from damp clothing.
Retail Style folding – After your clothes are dry, we pull them from the dryer immediately and fold them like they are going to be sold at J. Crew.
Matching socks – Like the game of Memory, we match your socks with their partner and fold them in pairs. Again, it's the little things.
Hand packaging – When your clothes are ready, we'll wrap them in recyclable shrink-wrap to lock in the folding for transport back to you. You'll get to tear into your wardrobe each week like it's your birthday.
Is this Earth Friendly?
While taking care of your clothes is our number one priority, doing it responsibly and earth-friendly is paramount. With water shortages becoming more prominent, we're doing our part to make sure the future of laundry is a positive, not a detriment.
Water
High-Efficiency Machines
Full Loads
Chemicals
Eco-friendly soaps
Research of new Dry Cleaning methods
The App
It's 2015, it's high time that we can do our laundry with our phones. With BRAND, you finally can. Our new app will allow you to handle your laundry account in a snap. Here are a couple of highlights.
FIND A CAUSE
We're aiming to save millions of student hours with laundry service. Your 96 hours saved is part of that. Good news, we can help time not go to waste! We'll connect you with campus or local organizations that need your hands and energy, and ideas! And Just like that – the world benefits from you not having to do your laundry #winwin.
REQUEST A PICKUP
If you use a drop spot in a building, you'll let us know that you dropped your clothes for a pickup. Just drop your bags and request a pickup in under eight seconds. We'll return the clothes clean in 1.9 million seconds, or simply put – two days. The app will let you know when they are ready for pickup.
TRACK YOUR CLOTHES
Because your bags are barcoded, we can let you know where they are in every step of the cleaning process. Curious to know how many pounds you washed this week? This is where you'll find out. We'll send alerts when your clean clothes are ready for pickup.
FIND THE TRUCK
While you'll learn where the truck is closest to you on your first day, it's often helpful to know where to drop or pickup clothes when your schedule changes. The intuitive map will let you see the truck spots and drop spots and determine when the truck is on campus.